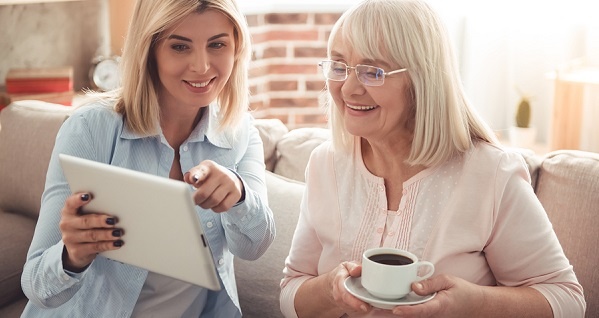 Technology has changed drastically over the last few decades, and many seniors simply haven't kept up. However, some of these new tools and technologies can benefit them greatly, even though getting them to take interest can be difficult.
There are a lot of ways technology can benefit seniors. It can improve their quality of life and make their caregiving easy for others, whether at an assisted living facility or home. Technology can make caregiving convenient and less stressful.
Here are a few ways the elderly can benefit from technology.
Boost Social Connections
The 2012 [email protected] survey of Centenarians tells that maintaining social connections is just as crucial as maintaining health.
Even though technology cannot compensate for in-person interactions, it can be a great alternative to help them stay in touch with old friends and find new ones. There are many internet-based channels that the elderly can use to stay in touch with their relatives, friends, and acquaintances. They can supplement in-person visits, especially in the time of COVID.
Especially for seniors living at assisted living facilities, applications like Skype, WhatsApp, Facebook can allow them to feel connected with their family at all times. They can share and see pictures and have video and voice calls whenever they like.
Enhance Safety
If you have a senior at home who doesn't want to be assisted, similar to 80 to 90 percent of other seniors, technology can help you ensure their safety. For instance, a Personal Emergency Response System (PERS) can help seniors call for help with just a single push. In addition, a senior can wear it at all times, allowing the family members and themselves to be at peace.
Moreover, another technology that has helped seniors with Alzheimer's or dementia a lot is GPS. Since seniors with such diseases are likely to wander off and forget their way back, the family can use a GPS tracker to track the senior's location. This could avoid having them in any dangerous situation that could cause a fatal injury.
Physical Fitness
Games like Nintendo's Wii sports can be beneficial for the physical fitness of elders. Many assisted living facilities have already adopted the idea of using recreational activities to improve seniors' health. In addition, it can enhance the comfort of their lifestyle. Wii or other motion-controlled video game systems can also be great for the light physical activity of seniors.
Some games promote mental wellbeing like three of the following:
Tetris is good for spatial recognition
Trivial Pursuit can help with fact recall
Mahjong can improve memory and matching
Conclusion
Besides this, some applications can help in tracking seniors' health. Moreover, you can also manage the medication of seniors with the health of medico health solutions. The benefits are endless if you start looking.
So, if you have a senior at your house or an assisted living facility, you must facilitate them with the technology to increase their life's comfort.